The Serve
Our Favorite Taco Recipes You Need to Try!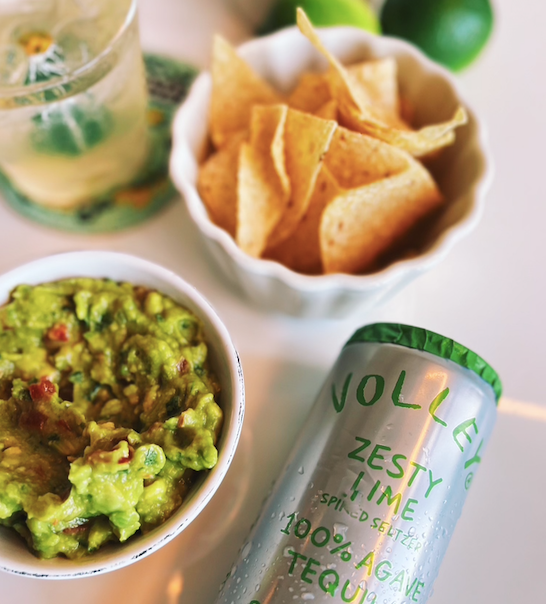 Someone once said that tacos and tequila make a great pair... we fully agree with this statement. Since today, the 3rd of October is National Taco Day, and we've gathered a few taco recipes from our lead nutritionist, Liana Werner-Gray and lead dietitian, Sarah Grace Meckelberg to help inspire you for the big day! 
Crockpot Salsa Verde Chicken Tacos by Sarah Grace Meckelberg
Vegan Black Bean Tacos by Liana Werner-Gray
1/2 cup walnuts
1 cup black beans
1 cup sundried tomatoes
2 Tbsp. extra-virgin olive oil
1 tsp. dried sage
1 tsp. fennel seeds
1 tsp. dried thyme
1 tsp. dried rosemary
1 tsp. dried oregano
1 pinch black pepper
1 pinch cayenne pepper
1 pinch salt
1 packet of organic taco shells
Paired with Tropical Mango Volley Tequila Seltzer. 
Preheat oven to 325 degrees F.
In blender, combine all ingredients except beans; blend for five minutes. Mixture should be moist and stick together.
In bowl, combine mixture and black beans; use hands to mix together.
In oven, cook mixture for 25 minutes. Assemble tacos and serve with desired toppings.
Beef Tacos by Liana Werner-Gray
2 tablespoons extra-virgin olive oil
1/2 teaspoon turmeric powder, divided
1/4 teaspoon black pepper
1 pound ground organic grass-fed ground
beef
1 small yellow onion, chopped
2 large garlic cloves, diced
1 1/2 teaspoons ground cumin
1/2 teaspoon turmeric powder
1/2 teaspoon paprika
1/4 teaspoon sea salt
1/4 teaspoon pepper
1 teaspoon chili powder or 1/4 teaspoon
cayenne pepper, optional (if you want it a
little spicy)
4 tortillas, 4 lettuce wraps, or 8 taco shells
Fillings (your choice):
3/4 cup organic sour cream or vegan sour
cream
1 cup nutritional yeast
1/2 cup grated carrot
1 cup diced lettuce
1 avocado, cubed
1 pepper, diced
Fresh chopped cilantro
1 handful of broccoli sprouts
16 ounces black beans (soaked, cooked,
soft)
Paired with Sharp Grapefruit Volley Tequila Seltzer. 
1. Heat the oil in a large frying pan over medium heat. Add the 1/2 teaspoon
turmeric and black pepper. Sauté for 1 minute or until sizzling. Add the
beef and cook for 3 to 4 minutes or until it turns brown, stirring
frequently.
2. Add the onion, garlic, cumin, 1/2 teaspoon turmeric, paprika, salt,
pepper, and chili powder, if using, to the meat and stir. Cook for 7
minutes, or until the vegetables are tender and the flavors are well
combined.
3. Place 1/4 cup of meat into each tortilla, or 2 tablespoons into a taco
shell, and then add your fillings of choice.
Celebrate National Taco Day with Volley! Pair any of our three favorite taco recipes with any of our four flavors, for the ultimate taco day experience. Cheers to tacos!